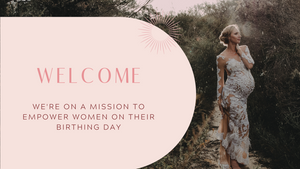 Hello! I'm Sara, it's a pleasure to meet you…
I created Positive Birth Affirmation Cards as a powerful tool for women and birth workers because I believe they work. I know that I was able to naturally birth my son because of committed mental preparation, focus and of course, the support of my incredible birthing team.
Imagine stepping into birth and labour with POSITIVITY & CONFIDENCE?
Imagine feeling EMPOWERED, CALM & READY? 
You are PREPARED to manage anxiety and fear because you have employed a simple tool, with proven benefits in promoting POSITIVE BIRTHING OUTCOMES.
Whether you are newly pregnant, about to give birth, or buying for a yummy mummy-to-be, you are in the right place!
​Education is key
At Best Birth Co, we are huge believers in the power of knowledge and experience. Through education we discover that birth is a wondrous and natural rite of passage, not something that puts your life in grave danger.
Research has proven that by employing the powers of your mind, you can manage the sensations and discomforts within your birthing journey.
Your definition of pain may transform. It no longer becomes a life-threatening state, but instead evolves into an understanding of the necessary and helpful sensations that allow your baby to arrive safely. You are CAPABLE of changing your relationship to pain and childbirth.
Created by a Homebirth Mumma
I'm Sara, Mumma, wife, creative and positive birth advocate. Thanks for stopping by and checking out Best Birth Co. I'm so grateful that you are here.
I loved using them to prepare for my son's homebirth. 
During my second and third trimester, I drew comfort from the words and imagery on the cards. At times, I would find myself pausing in my kitchen and staring at a particular affirmation - Its message would wash over me and I found myself naturally rehearsing the sensations I was preparing to feel.

These messages gave me a daily feeling of peace, of confidence and faith in my body's natural ability to birth. My beliefs were slowly transformed from fear and apprehension into excitement and positivity for the big day ahead.

During the birth, the cards were even more helpful. They changed into a completely different product than I had originally envisioned. From the original product - a visual, neural pathway creator, they took on the role of a powerful inner birth coach, one who ran the gauntlet beside me.
In the moments of doubt, when fear crept in, I looked at the cards and easily returned to my power. I had done the work to prepare and by engaging with them, I sourced a deep inner strength and confidence I never believed to be possible. We welcomed my son earthside, all 4.5kg's of him, drug and intervention free. This was one of my proudest and most spectacular moments of life to date.
It would be an honour to help you access strength and wisdom within your birthing process too!
One POWERFUL Tool for your Best Birth
With a chic design aesthetic, these cards have been carefully designed for the Modern Birthing Mother - she is educated, open-minded and embracing her birthing options with strength and confidence.
Shop Positive Birth Affirmation Cards